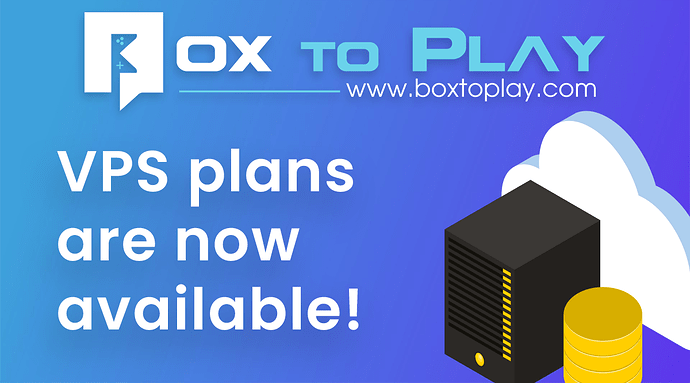 VPS servers are now available on BoxToPlay!
Start your project now by choosing the offer that suits you best among our wide range of Linux and Windows servers, from 1 to 8 Xeon vCPU at 4.7Ghz, 4 to 16 GB of DDR4 RAM and 50 to 200 GB NVMe from 10 €/month only !

Thanks to the KVM technology, the virtualization of our VPS servers is done at the lowest level offering you optimal performance and increased security. Each server has a customizable hardware firewall and anti-DDoS protection to ensure the continuity of your services even in case of attack.
Access all the necessary tools for the great management of your VPS server from your administration panel: rescue mode, daily backups, hardware firewall and 1-click installation of your operating system!
Available operating systems (Fedora will follow soon) :
Linux VPS : Ubuntu 20.04/22.04 and Debian 11
Windows VPS : Windows Server 2022, Ubuntu 20.04/22.04 and Debian 11
Still hesitating?

Test now the VPS server of your choice for free during 12 hours!